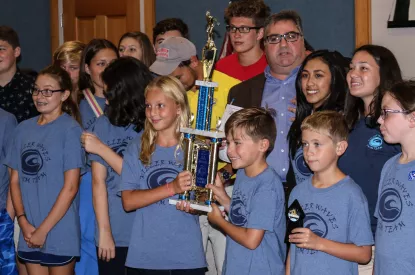 City honors Crowfield swim team

Aug 15 2018
Goose Creek City Council and Mayor Greg Habib gave a tip of the hat to the 2018 Crowfield Killerwaves swim team at the Aug. 14 City Council meeting.
Established in 1992, the team currently consists of 140 young swimmers from Goose Creek and the surrounding area. The Killerwaves earned second place in the CCAA Blue League this season with a record of 6-2.
At the meeting, Mayor Habib presented a Mayoral Resolution to the team, which he praised for its "integrity, sportsmanship, dedication and talent."
« Back to News