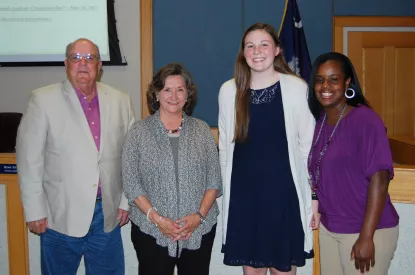 City honors championship team

May 10 2017
Goose Creek City Council honored the state champion Northwood Academy Varsity Girls basketball team this week, as Mayor Heitzler proclaimed May 10 "Northwood Academy Champions Day" in the city.
Council met in regular session on Tuesday, May 9 at City Hall.
The 2016-2017 high school basketball season saw Northwood capture its third SCISA Class AAA state title in as many years. The Chargers were led by first-year head coach Ginnell Curtis.
Coach Curtis attended Tuesday's meeting with Northwood Academy Upper School Principal Dr. Darlene Anderson and junior standout Elysa Wesolek.
Mayor Heitzler congratulated the Goose Creek school for its success. "Northwood Academy continues to provide an outstanding educational and athletic experience for its students, and continues to be a good neighbor in its new location in Goose Creek," he said.
In addition to Coach Curtis and Elysa Wesolek, the Northwood roster includes McKenzie Yon, Jailah Melvin, Ravyn Mitchell, Priscilla Delaney, Carrington Simpson, Bree Peatross and Angel Middleton, and assistant coaches Jimmy Davenport and Jaime Andrews.
« Back to News