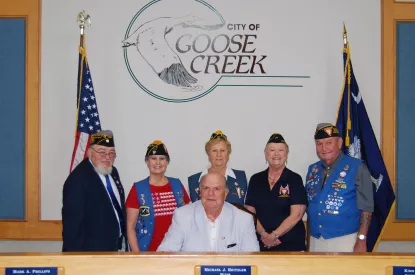 City to honor Fleet Reserve Association

Aug 8 2017
Goose Creek Mayor Michael Heitzler has proclaimed Aug. 24-27 as "Fleet Reserve Association Days" in Goose Creek.
Mayor Heitzler was joined at City Hall on Monday, Aug. 7 by FRA Branch 269 and FRA Auxiliary members as he signed the proclamation. The Mayor thanked the FRA members for their years of service to the nation.
The FRA is a non-profit veterans' organization chartered by the federal government. It boasts more than 70,000 active duty, retired and reserve members of the U.S. Navy, Marine Corps and Coast Guard. The Association's 72nd Southeast Region Convention will be held this month.
Joining the Mayor from the FRA were Fred Bolz, Laurie Bailey, Linda Cox, Gail Bolz and Larry Cox.
« Back to News