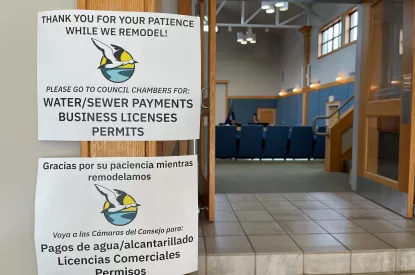 City Hall lobby remodeling continues; please use drive-thru on May 6 & May 9

May 6 2022
Update: As the remodeling project continues, City Hall will be closed to walk-in visitors on Friday, May 6, and on Monday, May 9. All City business can be conducted at the drive-thru during these two days.
***
A remodeling project that will improve customer experience is underway in the lobby at City Hall. For the next several weeks, City business that includes water/sewer bill payments, building permits, and business licenses will be conducted in the Council chambers at City Hall. Our drive thru remains open as usual. We'll provide updates here as the project continues. Thank you for your patience!
« Back to News