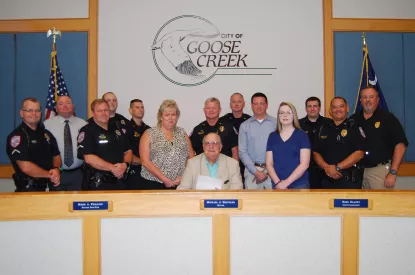 City hails success of 'Cop Stop'

Sep 19 2017
A unique program that lets residents share meals and fellowship with police officers is being recognized by the City of Goose Creek.
Goose Creek Mayor Michael Heitzler proclaimed Sept. 20, 2017 as "Cop Stop Appreciation Day" at a recent ceremony at City Hall.
"Cop Stop" gives residents the opportunity to serve the police officers who serve the community. Every Saturday, participating families open their homes to on-duty officers and provide home-cooked, family-style meals.
Goose Creek resident Jeremy McNeer started Cop Stop after receiving the blessing of City Council. "I had heard about the program and thought it was a great thing," he said.
The interaction – and home-cooked meals – serve as a perfect way to strengthen ties between residents and the police. "That's exactly why it was started," Mr. McNeer said. "To have the officers get to know the community, and the community get to know the officers."
September 3 marked Cop Stop's one-year anniversary in Goose Creek, 12 months after Mr. McNeer and his family served the first meal to GCPD officers. Since then, a total of 18 Goose Creek families have taken part.
"We've had 51-and-a-half weeks of dinner served every Saturday," Mr. McNeer said. "The half-week was during Hurricane Matthew, when the family brought food to dispatch. The families love it … it gives them a chance to give back to the community from their own homes.
"The program has really gone beyond my expectation."
GCPD Chief Harvey Becker said the police force has been touched by the outpouring of support. "It's been tremendous," he said.
Cop Stop's success "has been outstanding and humbling due to the graciousness … and sincerity of host families," the proclamation reads. "The trust of the citizens of Goose Creek is sacred and paramount to police officers and the success of their mission to serve and protect."
In addition to Mr. McNeer, Mayor Heitzler was joined by Cop Stop participants Sandra Williams and Olivia Garvin, GCPD Chief Harvey Becker, GCPD Assistant Chief John Grainger, and members of the GCPD Command Staff and GCPD officers at the proclamation signing.
Goose Creek is one of 30 cities in eight states that has a Cop Stop program.
To learn more about participating, visit the Cop Stop – Goose Creek Facebook page.
« Back to News