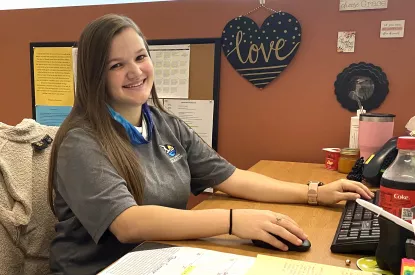 City Employee Spotlight: Arielle Mann

Jul 24 2020
Do you know Arielle Mann?
Since arriving at the City of Goose Creek in 2019, Arielle has served as an Administrative Recreation Specialist for Gymnastics in our Recreation Department.  Arielle's love for gymnastics began when she was a small child, "from the minute they put me on the floor," she said. "I stuck with it all the way through high school."
Today, her job keeps her close to the sport she loves: "I love getting to see the kids and coaches every day. This gives me a chance to have that connection."
Arielle's administrative duties include all aspects of the gymnastics program … checking registration forms, handling drops and transfers for new participants, scheduling classes and events, and "basically keeping up on all of the paperwork side of it," she said with a laugh.
Her favorite part of the job? "Definitely the kids," she said. "Just interacting with the kids and their parents, and having that repertoire. They know they have someone they can talk to and help them with anything they need."
Keep up the good work, Arielle!
« Back to News