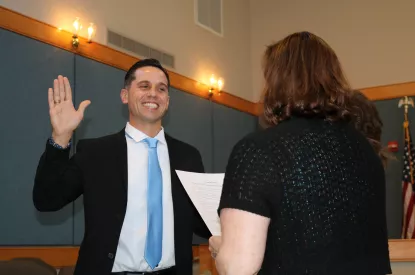 City Councilmember Christopher Harmon sworn in

Apr 26 2019
Christopher Harmon has been sworn in as the City of Goose Creek's newest City Councilmember.
As family members and friends looked on, Councilmember Harmon was sworn into office by City Clerk Kelly Lovette on April 26 at City Hall. He will now serve the remaining two years of former City Councilmember Brandon Cox's four-year term. Cox won a seat on Berkeley County Council last fall.
A native of Goose Creek, Councilmember Harmon is a Registered Nurse who has practiced in the community for the past decade. He is a graduate of Francis Marion University. He and his wife live in Goose Creek with their three kids.  "I look forward to being a public servant," he said. "Please reach out to me if I can help in any way."
« Back to News