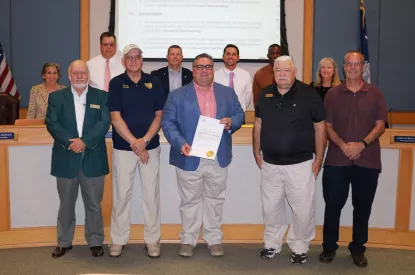 City Council honors Amateur Radio Operators

Jun 12 2019
Mayor Greg Habib and Goose Creek City Council continued the City's tradition of honoring local amateur radio operators at Council's June 11 meeting at City Hall.
Mayor Greg Habib proclaimed Amateur Radio Week in the City of Goose Creek, and read a proclamation that praised amateur radio operators for the important service they provide to local communities, particularly in times of emergencies.
"When everything else fails, these guys are there," the Mayor told Tuesday night's audience as a group of local amateur radio operators looked on. "It's a big deal. It's old school technology, but it still works better than anything. Thank you."
For more information on the National Association for Amateur Radio visit www.ARRL.org.
« Back to News