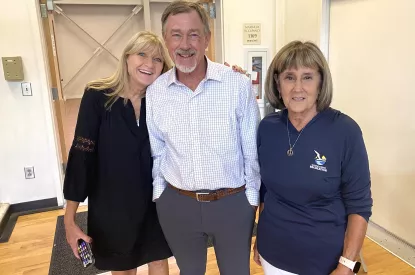 City bids fond farewell to Cheryl Heiselman after 38 years

Jun 15 2021
Dozens of friends, co-workers, City leaders and a host of former coaches and administrators came to the Community Center today to celebrate the career of City of Goose Creek Recreation Superintendent Cheryl Heiselman, who is retiring after 38 years with Goose Creek Recreation. The outpouring of good wishes was a testament to the crucial role that Cheryl has played in the success of our Recreation Department as it has grown along with the City.
"The impact that she's made on kids and families in our community here is immeasurable," Mayor Habib told Tuesday's gathering. "I could not be more thankful for her."
Former Mayor Michael Heitzler called Cheryl an integral part of the Recreation Department. "She's been a part of every bit of our Recreation development and growth and expansion that we've had in the last half-century, and I don't know too many people who can say that," he said. "Cheryl … remember that we love you."
Thank you for your years of service to Goose Creek, Cheryl, and congratulations on your well-deserved retirement. We will miss you – and we'll see you soon!
« Back to News