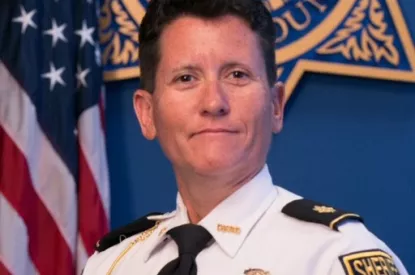 City announces new Police Chief

Nov 22 2018
The City of Goose Creek will soon welcome its first new Police Chief in nearly three decades. Major L.J. Roscoe – a Field Services Division Commander at the DeKalb County Sheriff's Office in Georgia – has accepted the Goose Creek Police Department's top position.
Goose Creek City Council voted unanimously to approve her hire at its Nov. 13 regular meeting. She is set to begin her new job on Jan. 21, 2019.
Major Roscoe replaces Chief Harvey Becker, who announced his retirement earlier this year. Chief Becker has led the GCPD since 1989, and will step down in January.
"I am humbled and honored," Major Roscoe said. "I look forward to working with the men and women within the department as well as the community. By establishing partnerships and working with the residents we serve, we will continue to move the police department and the City in a positive direction."
The hiring is the culmination of an extensive search by Goose Creek City Administrator Jake Broom.
"Mayor Habib and City Council tasked me with performing a national search and hiring the absolute best Police Chief I could find," Broom said. "I'm very happy with the results of the search, and I know that our future is bright with Chief Roscoe leading the way."
Mayor Greg Habib shared Broom's enthusiasm for the hire. "I am excited to see the future of our department under Major Roscoe's leadership," Habib said. "Her accomplishments, her attitude and her experience stood out amongst the 70-plus applicants. Goose Creek will be better for her service."
Major Roscoe has been the Field Services Division Commander at DeKalb County since 2014. Her promotion to that position was one of many in a decorated law enforcement career.
A South Carolina native, Major Roscoe began her career as a DeKalb County Sheriff's Office detention officer.  She was promoted to Deputy Sheriff in 1994, and her responsibilities steadily increased in the years to follow. In 2014, she was promoted to the rank of Major, and transferred to her current position.
An active member of the community, Major Roscoe earned a Bachelor's and Master's degree in Law Enforcement Management from Madison University in Mississippi; a Bachelor of Business Administration from Columbia Southern University in Alabama; and a Master's in Organizational Leadership from Waldorf University in Iowa. She is a graduate of the Northwestern University School of Police Staff and Command.
« Back to News