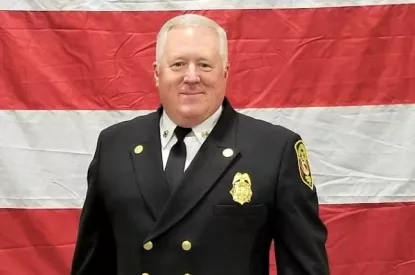 Chief Chapman announces his retirement

Jan 10 2020
City of Goose Creek Fire Chief Steve Chapman has announced that he will retire from his position at the end of April of this year.
Chief Chapman has served the Goose Creek area as an emergency responder for 40 years, beginning as a volunteer firefighter with the Goose Creek Rural Fire Department. He joined the North Charleston District Fire Department before serving 26 years with the GCFD. Chief Chapman steadily rose through the ranks before being appointed Fire Chief in 1998. 
Chief Chapman led the GCFD through a period of unprecedented growth over the past two decades, culminating in the Department's move in 2018 to a state-of-the-art, multi-use Headquarters Station considered the region's finest.
"I am extremely grateful for the opportunity I was given to lead the Fire Department as Fire Chief, and to be associated with some of the best people I have ever met in my life," Chief Chapman said. "I am proud of the things that were accomplished during my tenure, and I feel that I am leaving the department in a great place with a solid foundation for the future." 
Goose Creek City Administrator Jake Broom said that Chief Chapman will be missed.
"Steve has been the ideal Fire Chief," Broom said. "He has served the city with a commitment to professionalism, a deep dedication to the fire service and a great sense of humor. He can retire knowing he built one of the best fire departments in the state."
« Back to News