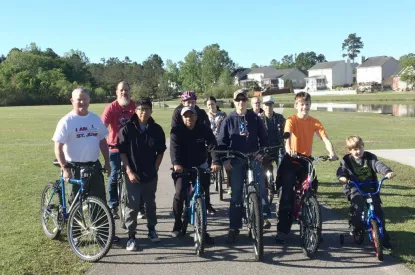 Chief Becker says thanks

May 3 2017
Goose Creek Police Chief Harvey Becker recently sent this letter to the community and the local media for their support of the recent St. Jude Bike-a-thon:
On April 8, 2017, the Goose Creek Police Department sponsored its 32nd annual "Making a Difference for St. Jude" Bike-a-thon to benefit the St. Jude Children's Research Hospital. I am happy to report that the campaign was a success: 22 participants rode over 121 miles and raised $5,900 for the hospital.  Over the past 32 years, we have raised $174,396.29 for St. Jude.
I wish to express my gratitude to all those who came together to contribute to this year's success and who share the dream of the hospital's founder, the late Danny Thomas, who said, "No child should have to die of cancer or other catastrophic diseases."
To the riders, the multitude of citizens and businesses who sponsored the riders, and to you for publishing news releases during the weeks prior to our ride event, I extend my sincere thanks. You all share in this successful endeavor.
This year the hospital celebrates its 55th anniversary. Since the hospital opened in 1962 approximately one hundred and fifty children and families from South Carolina have received treatment from St. Jude. Currently, more than 40 children from South Carolina are receiving treatment from St. Jude. 
Worldwide, thousands of others have benefited from the research findings that have developed better and more successful treatment methods. When St. Jude opened only 20 percent of children survived their fight against cancer. Today, thanks mainly to research and treatment conducted at St. Jude and shared freely with doctors around the world, 80 percent of diagnosed children will survive. St. Jude is working to drive the overall survival rate for childhood cancer to 90 percent in the next decade.  The St. Jude website declares, "We won't stop until no child dies from cancer."  Specifically, the survival rate for the once deadly acute lymphoblastic leukemia (ALL) was 4 percent; today, the survival rate for ALL is 94 percent. 
All of this has been made possible by kind and generous St. Jude donors.  
Thank you.
Please visit www.stjude.org for more information.
Sincerely,
Harvey Becker
Bike-a-thon Coordinator, Chief of Police
« Back to News