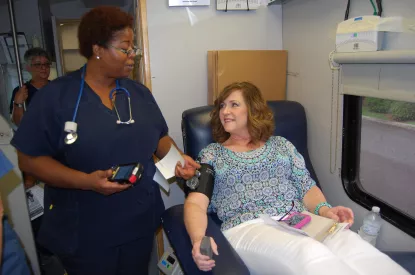 Bloodmobile returning to Goose Creek

Jul 24 2017
Are you ready to save a life? The American Red Cross Bloodmobile will be back in Goose Creek for a blood drive at the Municipal Center from 9 a.m. to 2 p.m. on Friday, Aug. 11.
The public is encouraged to make an appointment to donate by calling City Clerk Kelly Lovette at (843) 797-6220 ext. 1113, emailing City Clerk Kelly Lovette, or visiting www.RedCrossBlood.org online and entering sponsor code CityofGooseCreek.
The Red Cross encourages donors of all blood types to donate. Blood of every type is in demand for patients in need of blood transfusions. Giving blood is an easy and quick way to make a life-saving difference.
Save time by visiting www.RedCrossBlood.org/RapidPass to complete a pre-donation reading and answer health history questions. The Rapid Pass can only be used on the day of the appointment.
A free American Red Cross Blood Donor App is available on mobile devices. Text BLOODAPP to 90999* or search Red Cross Blood on the App Store or on the Google Play store.
« Back to News