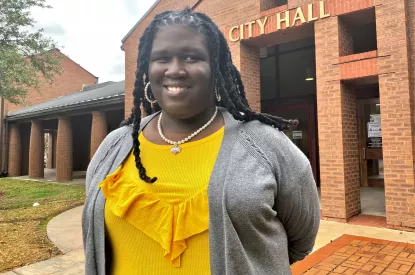 Black History Month in Goose Creek: Haynes follows in mother's footsteps

Feb 2 2021
The City of Goose Creek is celebrating Black History Month by highlighting some of Goose Creek's past and present African American leaders.
Sharina Haynes was born and raised in Goose Creek, graduated from Goose Creek High School, and returned to her hometown six years ago after college and graduate school. She has served on the City's Cultural Arts Commission, and this January she was sworn in as the new president of the Goose Creek NAACP. That position holds particular meaning for her: Sharina's mother, the late Andrea Glover-Matthews, helped found the NAACP's Goose Creek branch and also served as its president. Sharina took over from President Veronica Dukes.
"I'm excited," Sharina said. "I'm happy to be here. I'm ready to do some new things, and get the youth engaged. We are currently planning a new mentoring program that will include African American History, Science and Mathematics."
The organization's monthly meeting (every fourth Monday) is being held virtually because of COVID19, and Sharina encouraged anyone interested to visit the Goose Creek NAACP website.
After attending Tennessee State University and Fisk University, Sharina's return to Goose Creek came with a deeper appreciation for her hometown. "This is home," she said. "It has always been home for me. I love Goose Creek because there's so much history here. It's perfect because you have this hometown feel with Goose Creek, and I've always liked that."
« Back to News