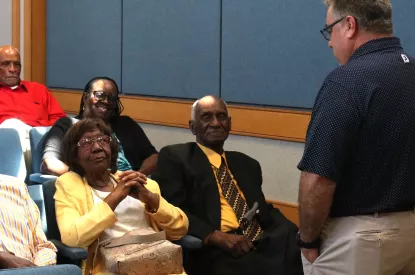 Beloved couple celebrates 73 years

Sep 15 2023
Mayor Habib recently honored Elder Ransom and Mother Ruhbena Reese, who celebrated 73 years of marriage in August. The Reese's were joined by family members and friends at City Hall for a ceremony that proclaimed Elder Ransom & Mother Ruhbena Reese Day in Goose Creek.
The couple has volunteered for the Calvary Church of God in Christ Prison Ministry for 61 years, where their ministry to current and former prisoners has lowered recidivism rates while reshaping countless lives. Their years of service – and their love for one another – continue to be an amazing inspiration to our City.
 
« Back to News