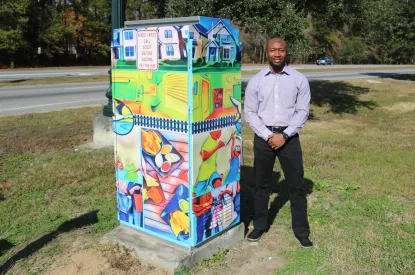 Artists sought for traffic box project in City

Feb 25 2022
The Goose Creek Cultural Arts Commission is seeking local graphic artists to help with the second round of our popular traffic box art design project. 
"Beauty and the Creek" is a Traffic Signal Cabinet Art Project that will see the metal traffic signal cabinets located at City intersections turned into pieces of art. Ten boxes were decorated around town in 2019, and seven more designs will be chosen this year. 
Graphic artists are invited to submit applications for their design(s) to be utilized to wrap existing traffic signal cabinets at selected intersections. The metal cabinets are located on visible corners of certain intersections and are similar in size and shape. The graphic design will be printed on a vinyl wrap and applied to the box. Artists will receive a $250 stipend paid by the City of Goose Creek upon installation of the wrap.
Click here to view and download the application to enter your design.
« Back to News