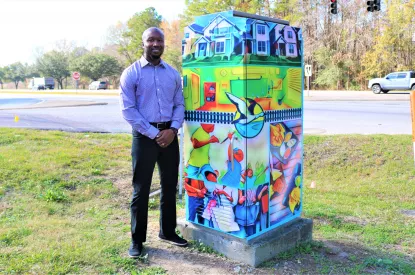 Artists give City color rush with Traffic Signal Cabinet project

Dec 17 2019
The creativity of 10 local graphic artists has given the City of Goose Creek landscape a color rush.
Thirteen traffic signal cabinets around the City have been wrapped in the artwork and design of the artists, whose works were selected by the Goose Creek Cultural Arts Commission this fall.
The "Beauty and the Creek" Traffic Signal Cabinet Art Project was the first of its kind in Goose Creek. Dozens of artists submitted artwork for the contest. Artists received a $250 stipend paid by the City of Goose Creek upon the wraps' installation, which was completed earlier this month.
Congratulations to the artists whose designs were selected. They are: Tyler Hicks, Tina DiStefano, Pamela Corwin, Sue Selvey, Jessica Kesler, Emil Hristov, Trina Lyn, Michele Levani, Ty Davis and Michael Warren (pictured). Hristov and DiStefano each had multiple designs selected.
While there could be only 10 winners, the success of the project could mean more opportunities in the future. Learn more about the Goose Creek Cultural Arts Commission.
« Back to News