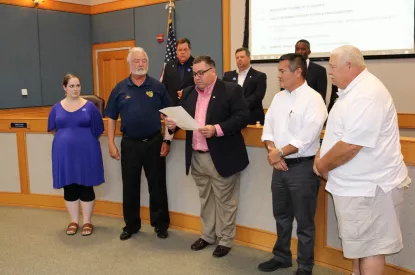 Amateur Radio Week June 17-23 in Goose Creek

Jun 12 2018
Goose Creek City Council began its June 12 meeting by honoring amateur radio operators in the Lowcountry.
Mayor Greg Habib proclaimed June 17 to 23 as Amateur Radio Week in the City of Goose Creek, and read a proclamation that praises amateur radio for continuing "to provide a bridge between peoples, societies and countries by creating friendships and the sharing of ideas."
In addition to helping municipalities across the country, Amateur Radio Operators "further demonstrate their value in public assistance by providing free radio communications for local events," the proclamation stated.
For more information on the National Association for Amateur Radio – including details of the 2018 Amateur Radio Relay League Field Day exercise that takes place June 23 to 24 – visit www.ARRL.org.
Local Amateur Radio operators Linda Selleck, Thomas Lufkin, Ron Davis and David Merritts joined Mayor Habib for the proclamation reading.
« Back to News