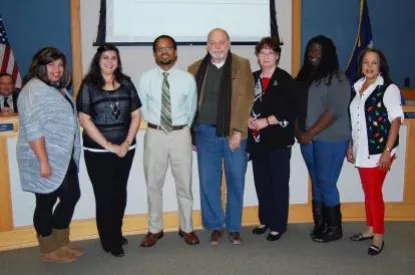 7 selected for Cultural Arts Commission

Dec 22 2016
Goose Creek City Council voted unanimously to appoint seven residents to serve on the city's newly-formed Cultural Arts Commission. Council met in regular session on Dec. 13 at City Hall.
The commission's purpose is to create new ways to bring the arts into Goose Creek, while tapping into the city's own artistic community.
Chosen for the commission were Lindsey Kerr, Andrea Morgan, Michael Owens, Tony Young, Pamela J. Smith, Sharina Haynes and Marsha Hassell. Council members interviewed candidates for the commission on Nov. 15 and 16.
The commission will meet monthly, and each member will serve a two-year term that began Dec. 13.
« Back to News