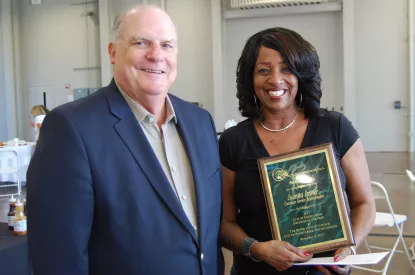 2017 Employee of Year makes paying water bill fun again

Nov 7 2017
Paying a water bill is not necessarily the highlight of the month for Goose Creek residents … yet the good humor and positive outlook of one city employee makes that task downright enjoyable.
From Monday through Friday, Customer Service Representative Juanita Joiner can be found greeting her fans … er, customers … at City Hall's bill payment drive-thru lane. From behind the tinted glass window, Juanita takes payments, answers questions, and provides crucial service – and does so with an enthusiasm that's contagious.
That can-do spirit along with a high job performance made her City Council's choice for the 2017 City of Goose Creek Employee of the Year.
Juanita joined the City of Goose Creek team in 2013.
"Sometimes, encountering one smiling face can turn a bad day into a good one," Goose Creek City Administrator Jake Broom said. "Juanita is that face for a lot of people every single day."
Finance Director Tyler Howanyk praised Juanita for her "positive attitude, professionalism, dedication, devotion and pride in her work."
In a letter nominating her for Employee of the Year, Howanyk described an employee that is always there for her customers and co-workers.
"Juanita's exceptional customer service skills and devotion to her customers is clear," Howanyk wrote. "She displays a strong personal commitment to successfully completing any task with the utmost enthusiasm.  Juanita will always step in to assist her co-workers or customers in the lobby when she is not busy at the drive-thru."
According to Howanyk, the proof of Juanita's customer service is given every month by her customers themselves.
"Juanita's outgoing and friendly personality has led to the development of her 'regulars' who come to the drive-thru window so they can interact with her," he said. "Her customers truly adore her."
In an average year, Juanita processes some 26,000 Goose Creek Water Payments, 19,300 Berkeley County Water and Sanitation Payments, and over 300 service orders.
The citywide Employee of the Year is chosen by City Council from each city department's Employee of the Year. In addition to Juanita (Administration Department), the remaining honorees for 2017 are:
Fire Department: Firefighter/EMT Robert Ulrich
Golf: Assistant Golf Professional Dan Meyer
Recreation: Program Coordinator Kara McKeown
Public Works: Equipment Operator Cherieff Maurice Manigault
Police: Sergeant Ted E. Davis III
Police Civilian: Administrative Assistant Deborah Henshaw
Police Explorer: Ryan Adams
Seasonal: Steven Hird (Golf Course)
Volunteer of the Year: Jeremy McNeer (Cop Stop Program); Joshua Johnson (Planning Commission)
The city held an employee appreciation banquet on Saturday, Nov. 4 at the Goose Creek Fire Department Headquarters Station.
« Back to News