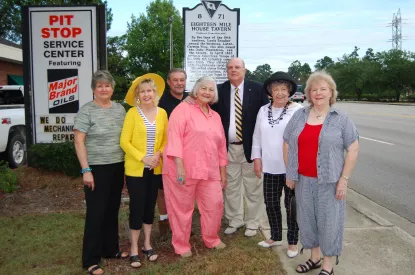 18-Mile House Tavern Historical Marker dedicated

Aug 30 2016
The City of Goose Creek's newest historical marker, which commemorates the 18-Mile House Tavern, has been erected at 137 St. James Avenue.
Mayor Michael Heitzler joined Pit Stop Service Center owner Dave Christensen and members of the Goose Creek Tea Ladies on Tuesday, Aug. 30 to celebrate the marker, which became a reality thanks to donations from Mr. Christensen and the Tea Ladies. The 18-Mile House Tavern was a historically significant meeting point where the State Road from Charleston and the Road to Dorchester intersected.
« Back to News