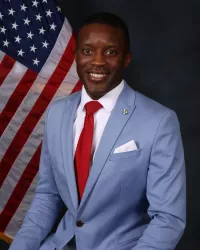 Corey McClary

Mayor & Council

Title: City Councilmember

Phone: 843-797-6220, ext. 1113
Corey D. McClary was elected to Goose Creek City Council in 2018.
Mr . McClary is married to his best friend, his bride, Kimberly McClary. Goose Creek has been home to the McClarys since 2003.  They live in the beautiful Ryan's Creek subdivision. 
Mr. McClary was raised by two professional educators. His mom, Eartha McClary, was a teacher at Howe Hall Elementary and Goose Creek Primary for many years and has since retired. She still continues to serve as a mentor and long -term substitute for Berkeley County School District.  His dad, John McClary, was a high school teacher, coach, and Athletic Director in Charleston County School District.  He has since retired as well.  They both serve as leaders in several local civic organizations and in their local church.  Together they raised four sons.
Mr. McClary was raised that God and family were the backbone to what shaped one's character. He was also taught and trained that true leadership was developed with respect, integrity and discipline.  These characteristics helped Mr. McClary develop a passion early on in life to become a "servant leader", or one that leads by serving others.
As such, Mr. McClary has had the privilege of serving in the United States Army, also serving as a full time Youth Pastor here in Goose Creek, serving as a Citizen Advisor for the City of Goose Creek, serving as a Berkeley Electric COOP Community Outreach Board Member, serving as a Community Arbitrator for Ninth Judicial Circuit Court, being the founder of the Berkeley County Teen After School Center with the SC Dept. of Juvenile Justice, and serving as a mentor to dozens of students.  Mr. McClary also serves in his local church as a teacher for Children's Church, a media team member, and Pastor's Aid. 
Mr. McClary believes that your local government's decisions should always be filtered through the prism that the family is the most important asset in the community.  He believes in efficient and fiscal responsibility and that the "Families First" ideology will help to ensure that Goose Creek residents will have the best quality of life and will continue to be one of the best places in South Carolina to raise a family. Mr. McClary believes that it is important to preserve the unique character and beauty of Goose Creek and to create a vibrant, downtown identity where commercial, cultural, civic, and residential activities can facilitate business, learning and cultural exchange.
Mr. McClary is a graduate of The Citadel, loves sports, and has five children, Destiny, Danielle, Kaitlyn, Cayden and Cameron.
« Back to Staff