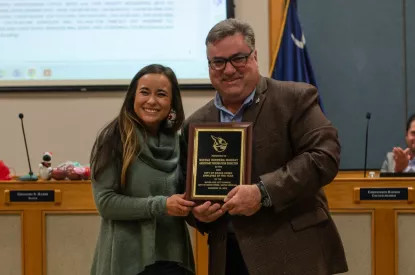 Nicole Herrera Murray wins City Employee of Year honor

Jan 1 2023
We are thrilled to announce that Nicole Herrera Murray is the City's Employee of the Year for 2022! Nicole is our Assistant Director at Goose Creek Recreation, and has played a major role in that department's incredible success. Along with Director Crystal Reed, Nicole's leadership is felt every day in ways big & small, and we could not be prouder of her!
Nicole was honored at last night's City Council meeting. Mayor Habib, who announced each department's Employee of the Year before announcing the Citywide honor, said that he has been "amazed and impressed" with Nicole and the work she's done. "She is out in front, working as hard anyone can imagine, and caring as much as anyone can imagine about what we do and the services we provide," he said.
"It truly is a team," Nicole told last night's audience after receiving her award. "You guys are awesome to lead and I'm just so fortunate to work for a City like Goose Creek. I am so thankful."
Congratulations, Nicole, and thank you for your service to Goose Creek!
« Back to News